Date : 23rd july 2013
SPECTROTEST mobile metal analyzer now features SPECTRO metal database
SPECTRO Analytical Instruments now offers direct access to its SPECTRO Metal Database on the latest versions of its SPECTROTEST -- the most powerful mobile metal analyzer in the SPECTRO product line. Users will not only save time conducting metal assessments but will no longer need to purchase various catalogs of metal standards. Stored in the SPECTRO Metal Database are specifications for more than 150,000 metal alloys according to international standards for steels and non-ferrous metals.
The Metal Database serves as a universal tool for providing detailed information about metal alloys and their mechanical properties. Among its strengths is the ability to search for suitable alloys, to identify unknown materials based on the chemical content, and to export material specifications for use on a particular spectrometer. The software supports users working with the SPECTRO iSORT, xSORT, SPECTROTEST (additional direct access), SPECTROMAXx and SPECTROLAB. All new SPECTROTEST (TXC03) analyzers have a test version of the SPECTRO Metal Database pre-installed. To request a test version of the SPECTRO Metal Database contact gradebase.spectro@ametek.com.
"For many using the SPECTROTEST, elemental content is not always a prime interest. For rapid inspections of incoming and outgoing goods, it is often sufficient to know whether or not the tested metal corresponds to given specifications, the delivery note is correct or the steel accurately identified," explains Marcus Freit, SPECTRO Product Manager for mobile metal analyzers.
Even previous versions of the SPECTROTEST could answer many of these questions using pre-installed grade libraries, in which common grades are stored. The materials library could also be extended with customer-specific entries.
"The SPECTROTEST analyzes and gives the green light when everything fits or the red light when the sample being tested exceeds the given tolerances," explains Marcus Freit.
With the new SPECTRO Metal Database, this has been made even easier. With unknown alloys, it is possible for users to search for materials. Pressing a key starts the extended material search from the measuring screen. It is then possible to determine within which material specifications the analysis fits. By importing materials from the list of results, the alloys can be quickly and simply entered into the library on the SPECTROTEST.


Date : 17th May 2013
LI-COR instruments established historic climate news




In a scientific field charged with politics and conflict, scientists and employees at LI-COR Biosciences in Lincoln bear their responsibility a lot more quietly.

On Monday, the National Oceanic and Atmospheric Administration reported a preliminary daily average carbon dioxide (CO2) reading of 400.07 parts per million at the Mauna Loa Observatory on the Big Island of Hawaii. Last week, a reading more than 400

ppm

was reported at the site for the first time ever. But that reading (400.03

ppm

) was later revised to 399.89

ppm

.

LI-COR Biosciences, 4647 Superior St., supplies instruments that measure the evidence of climate change at Mauna Loa.

LI-COR's LI-7000 CO2 /H2O Gas Analyzer is one of the instruments there. And at the Earth Systems Research Laboratory in Boulder, Colo., NOAA also uses the LI-7000 for analyzing flasks of air collected from more than 60 sites around the world, LI-COR said.

These data are used to make global models and to understand changes in atmospheric CO2 concentrations over time. The lab receives 15,000–20,000 flasks for analysis each year, according to LI-COR.

The first CO2 measurement at Mauna Loa was 313 ppm in 1958. Charles David Keeling established CO2 monitoring there. According to the Scripps Institution of Oceanography, these measurements -- known as the "Keeling Curve" -- make up the world's longest unbroken record of atmospheric CO2 concentrations. The Keeling Curve has been used to show a relationship between increased fossil fuel burning and increasing atmospheric CO2 levels.

Lots of people challenge those associations as unproven causes of climate change, one of the most hotly debated scientific issues in history.

"Our role is to provide reliable scientific tools for researchers," said Larry Middendorf, LI-COR's senior vice president of sales and marketing for environmental products. "By helping provide accurate answers to their questions, it strengthens the basis of scientific conclusions and reduces the speculation and opinions that can factor in when solid data is not available."

Some scientists and environmental groups promote 350

ppm

as a safe level for CO2, but scientists acknowledge they don't really know what levels would stop the effects of global warming.

The last time the worldwide carbon level probably hit 400

ppm

was about 2 million years ago, said Pieter Tans of the National Oceanic and Atmospheric Administration. That was during the Pleistocene Era. "It was much warmer than it is today," Tans said. "There were forests in Greenland.

Sea level

was higher, between 10 and 20 meters (33 to 66 feet)."

Other scientists say it may have been 10 million years ago that Earth last encountered this much carbon dioxide in the atmosphere. The first modern humans appeared in Africa only about 200,000 years ago.

Before the Industrial Revolution, carbon dioxide levels were around 280 ppm, and they were closer to 200 during the Ice Age, which is when sea levels dropped and polar places went from green to icy. There are natural ups and downs of this greenhouse gas, which come from volcanoes and decomposing plants and animals. But that's not what has driven current levels so high, Tans said. He said the amount should be even higher, but the world's oceans are absorbing quite a bit, keeping it out of the air.

"What we see today is 100 percent due to human activity," said

Tans

, a NOAA senior scientist. The burning of fossil fuels, such as coal for electricity and oil for gasoline, has caused the overwhelming bulk of the man-made increase in carbon in the air, most scientists say.

The speed of the change is the big worry, said Michael Mann, a Penn State climate scientist. If carbon dioxide levels go up 100

ppm

over thousands or millions of years, plants and animals can adapt. But that can't be done at the speed it is now happening.

As scientists continue to monitor the gas, LI-COR said its CO2/H2O analyzers are used in over 90 percent of CO2 flux towers worldwide, to identify and quantify sources and sinks of greenhouse gases.

Founded in 1971, LI-COR Biosciences designs and manufactures

instrument

systems for environmental and biotechnology research. The privately held company has subsidiaries in Germany and the United Kingdom.









Date : 17th May 2013
Nanotechnology to help fight diabete

s
Injectable nanoparticles developed at MIT may someday eliminate the need for patients with type 1 diabetes to constantly monitor their blood-sugar levels and inject themselves with insulin.
The nanoparticles were designed to sense glucose levels in the body and respond by secreting the appropriate amount of insulin, thereby replacing the function of pancreatic islet cells, which are destroyed in patients with type 1 diabetes. Ultimately, this type of system could ensure that blood-sugar levels remain balanced and improve patients' quality of life, according to the researchers.
"Insulin really works, but the problem is people don't always get the right amount of it. With this system of extended release, the amount of drug secreted is proportional to the needs of the body," says Daniel Anderson, an associate professor of chemical engineering and

member

of MIT's Koch Institute for Integrative Cancer Research and Institute for Medical Engineering and Science.
Anderson is the senior author of a paper describing the new system in a recent issue of the journal ACS Nano. Lead author of the paper is Zhen

Gu

, a former postdoc in Anderson's lab. The research team also includes Robert Langer, the David H. Koch Institute Professor at MIT, and researchers from the Department of Anesthesiology at Boston Children's Hospital.
Currently, people with type 1 diabetes typically prick their fingers several times a day to draw blood for testing their blood-sugar levels. When levels are high, these patients inject themselves with insulin, which breaks down the excess sugar.
In recent years, many researchers have sought to develop insulin-delivery systems that could act as an "artificial pancreas," automatically detecting glucose levels and secreting insulin. One approach uses

hydrogels

to measure and react to glucose levels, but those

gels

are slow to respond or lack mechanical strength, allowing insulin to leak out.
The MIT team set out to create a sturdy,

biocompatible

system that would respond more quickly to changes in glucose levels and would be easy to administer.
Their system consists of an injectable gel-like structure with a texture similar to toothpaste, says

Gu

, who is now an assistant professor of biomedical engineering and molecular pharmaceutics at the University of North Carolina at Chapel Hill and North Carolina State University. The gel contains a mixture of oppositely charged nanoparticles that attract each other, keeping the gel intact and preventing the particles from drifting away once inside the body.
Using a modified polysaccharide known as dextran, the researchers designed the gel to be sensitive to acidity. Each

nanoparticle

contains spheres of dextran loaded with an enzyme that converts glucose into gluconic acid. Glucose can diffuse freely through the gel, so when sugar levels are high, the enzyme produces large quantities of gluconic acid, making the local environment slightly more acidic.
That acidic environment causes the dextran spheres to disintegrate, releasing insulin. Insulin then performs its normal function, converting the glucose in the bloodstream into glycogen, which is absorbed into the liver for storage.
In tests with mice that have type 1 diabetes, the researchers found that a single injection of the gel maintained normal blood-sugar levels for an average of 10 days. Because the particles are mostly composed of polysaccharides, they are

biocompatible

and eventually degrade in the body.
The researchers are now trying to modify the particles so they can respond to changes in glucose levels faster, at the speed of

pancreas

islet cells. "Islet cells are very smart. They can release insulin very quickly once they sense high sugar levels,"

Gu

says.
Before testing the particles in humans, the researchers plan to further develop the system's delivery properties and to work on

optimising

the dosage that would be needed for use in humans.
The research was funded by the Leona M.

and

Harry B. Helmsley Charitable Trust and the Tayebati Family Foundation.
Date : 14th May 2013
MultiScan
4000 FTNIR Spectrometer
SOFTCONDELLCONDELL

PARK, New South Wales, Australia, May 10, 2013 —
Next Instruments' new MultiScan series 4000 FTNIR spectrometer measures a wide range of organic molecules such as amines, hydrocarbons, aromatics, alcohols and organic acids in the food, agriculture, petrochemical, pharmaceutical, chemical, plastics and polymer industries.
Based on a Michelson interferometer, the device has a scan range from 12,500 to 3846 cm−1 at five scans per second with a resolution selectable from 1 to 64 cm−1. The system is designed for both diffuse reflectance and transmission modes. The diffuse reflectance mechanism uses a 105-mm dish that rotates in the light beam to average a larger sample area. Transmission spectra can be collected using standard quartz

cuvettes

with path lengths of 1, 2, 5, 10 and 20 mm. A fiber optic probe can be mounted into the sample compartment for remote spectra collection.
Operated from a

touchscreen

PC running proprietary ware designed for collecting spectra, calibration and analysis, and for library searching and raw materials identification.
Source :

http://www.photonics.com
Date : 14th May 2013
Ocean Optics introduces handheld Raman spectromete

r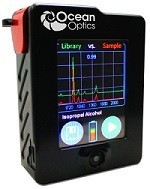 Ocean Optics Germany GmbH has released the IDRaman mini-handheld Raman spectrometer, a small powerful instrument for sample authentication and counterfeit detection, identification and verification. The palm-sized IDRaman mini is rugged and dependable, delivering fast, accurate Raman analyses ranging from chemical and explosive agent detection in the field of quality assurance and quality-control sampling routines in the laboratory.
The IDRaman mini measures 9.1 centimeters (cm) × 7.1cm × 3.8cm (3.6 inches, in. × 2.8 in. × 1.5 in.) and weighs only 330 grams (11 ounces). It's not much larger than the typical mobile phone. To ensure a simple and dependable operation during long field missions or manufacturing shifts where recharging is impossible, the IDRaman mini runs on two AA batteries.
The IDRaman mini's sample measurement performance isn't limited by its small size. The unique Raster Orbital Scanning (ROS) mode scans a tightly focused beam over a wide sample area, improving the quality of the Raman measurement. ROS has benefits for liquid and solid samples, in particular solid samples that are irregularly shaped and not homogeneous. Also, ROS is a dramatic improvement over stationary beam systems. The low average power needed eliminates sample damage and the possible ignition of explosive samples. In ROS mode, most compounds can be identified in less than 9 seconds.
Featuring a bright 7.1cm (2.8 in.) resistive touchscreen display, the IDRaman mini is easy to operate in bright sunlight and while wearing restrictive personal protection equipment. The straightforward, graphical interface is easy to navigate and allows operators of all skill levels to quickly acquire data. Sampling can be accomplished using either small vials or with a

standoff

accessory for powders, residues and solid samples.
The IDRaman

mini

helps make the power of Raman analysis more accessible, improving efficiency and saving on measurement costs. Ocean Optics are exhibiting the IDRaman mini-handheld Raman spectrometer at Laser World of Photonics 2013, which is

on

13-16 May at the Messe München (hall B1, booth 379) in Munich, Germany
.
Source : http://www.novuslight.com
Date : 14th May 2013
New Portable SPECTROSCOUT XRF Analyzer from
SPECTRO Analytical
Launched in March 2013, SPECTRO Analytical's new SPECTROSCOUT Portable Energy Dispersive X-ray Fluorescence (ED-XRF) analyzer enables rapid, laboratory-class elemental analysis of environmental and geological samples even in remote locations.
Determining elemental compositions

onsite

, from far-flung mining and geological field operations to remote environmental locations, presents substantial challenges. Real-time analytical results are essential for assessing progress. And, accuracy is essential at all detection levels.
"Weighing only 12 kilograms and carried with a shoulder strap, the new SPECTROSCOUT portable ED-XRF analyzer meets such challenges - in the field - with as much analytical power as top-grade laboratory benchtop analyzers," explains Dirk Wissmann of SPECTRO.
"The new SPECTROSCOUT is a small instrument, but a major step forward for end users. Its precision and speed in the field allows for faster decisions and improved productivity. Many laboratory-based measurements now become unnecessary," notes Wissmann.
This portable analyzer is ideal for on-site environmental and geological analysis. Designed for tough use, SPECTROSCOUT is encased in a rugged housing, and its X-ray source is protected. It is both lightweight (12 kg/26.46

lb

) and small (270 x 306 x 306 mm/10.7 x 12.1 x 12.1 in) and includes a large sample compartment, X-ray tube, on-board processor, and high-yield battery pack. An optional integrated video system allows precise spot testing, plus image storage.
SPECTROSCOUT provides highly precise measurements from trace to minor and major concentrations across a range of relevant elements from heavy elements, such as uranium, to light elements, such as sodium, with rapid (typically 10 to 15 minutes) turnaround. The analyzer also brings laboratory-class advantages, such as SPECTRO's advanced TURBOQUANT unknown-sample analysis and optional customer-specific calibrations.
Source : www.selectscience.com